Well, been a week or two (or were they three?) since I've made a blog post in either English or Arabic, but seems life got a new hobby right now, which is to put more stress on my way and laugh. I didn't do much with my projects with the camera, despite the fact that there are some ideas already circling around in my head, but I just didn't get the chance, the time and the power to do them. On the other hand, my sleep deprivation doesn't help as well; since I try to compensate for all the tiresome time during the week on the weekend, at the time that I'm supposed to be working with my camera. Even that I'm not having enough of, since my weekends are quite noisy and annoying at home and I would spend it thinking of ways to escape it somehow and put my mind out of it.
I've done some "product" shooting for my nephew, but even that was kind of helpless and my inspiration was dim. I was trying to shoot against a black background unlike the previous times when I shot with white background, but working with black is quite challenging (and requires a lot of cleaning). Thus, I had to use excessive Photoshop powers here. But that's a different story for now. I'm going to list some of the few things that I've done so far…
This is one idea I've envisioned for a while and in fact I've made these shots long ago. I tried to do it on my own but it was clear that this is not an option and I must do it with someone else, and of course, as usual, I picked my brother for the task to be a model.
Preacher I
Canon EF 50mm + B+W 092 IR, f/1.8,
250-1s, ISO100.
For the task, I thought that using my modified Canon EOS 7D would serve me well, which it did, but not the way I envisioned it. Typically, infrared shots would give out more contrast (depending on the lighting conditions of course). To my surprise later on though, the cloth did not remain black, but turned blue. I guess I didn't learn my lesson yet, as it is NOT the first time that such a thing happen. I should have forgotten about colors when I worked with infrared, because, they simply don't exist in infrared realm and it all depends on how much an object absorbs or reflects infrared. Thus, I guess this black cloth does reflect infrared; lot of it. Might not be a big deal when converting to B&W, but after all, the envisioned contrast can be disturbed and another route in processing the images should be taken.
Preacher II
Canon EF 50mm + B+W 092 IR, f/1.4,
250-1s, ISO100.
I've made several shots here, and all handheld and using LiveView on camera (
not a good combination if you ask me
). I needed the flexibility of framing, thus I dropped the tripod away, while the infrared filter (B+W 092) doesn't allow for inspecting through the viewfinder. Thus, I've found myself forced to do it that way. In lighting the scene, I've used a single speedlite (580EX II) with a bulb/oval diffuser which makes it act as a regular bulb somehow. My aim was to give a dramatic (close to low-key) look, thus I've used max shutter speed (sync speed that is, 1/250s). No cables here so moving to HSS mode was not an option.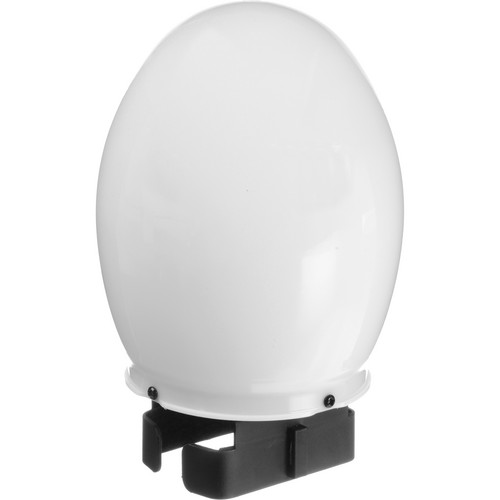 Globe Diffuser
Source: B&H
In processing, noise always been an issue, even though I've used ISO 100. Some of the shots are out of focus and this is natural with handheld shots and using low f-stop such as f/1.4 and f/1.8. Thus, filtering our the images, my options were limited on which images I could process here. Eventually, I've found at least two of them;
Preacher I
and
Preacher II
.
The reason for using such a low f-stop is the need to convey deceit and hidden motives, and thus keeping the dagger under the hand blurred and out of focus, while keeping the palm sharp as much as possible
. At least, this is the theory I had in my head but applying was no easy task after all!
So, I took some time to shoot some selfies again using special filters, like infrared and UV-pass. It all started after a shaving session but then I continued the trend doing 3 main selfies using my main "surreal" filters: Infrared, UV, and H-Alpha. Stating that, H-alpha doesn't differ much from the infrared except that it allows more red. The infrared filter I used here though is the Kodak's gel filter with my fisheye lens (which has a threshold of around 1000nm).
Coconut Selfie!
The trigger to the series was this
Coconut Selfie!
, which I've decided to shoot right after shaving and dipping my face with coconut oil. I was aiming to find if there is any effect for the coconut oil on taking infrared shot. It was experimental really so there was no need to go hi-tech with it, so I've used the simple in-camera flash just to provide some infrared. The result? Well, not much really. The luster of the oil was barely visible and only with excessive sharpening to the image (and could be mistaken for digital noise as well).
UV Selfie
My second trial was with my UV-pass filter (B+W 403) with hot mirror on top to reduce the IR leak. Working with this filter had always been a hassle because of the nature of UV. I placed my 430EX II speedlite on camera just to provide some lighting but for sure this light source does not provide UV range. Using a wide aperture and a semi-manual lens here (Voigtländer 20mm) did not help that's why the selfie came out out of focus, and this is the best I could do. In this selfie though, I didn't try to dip my face in coconut oil or anything. It was a simple selfie. The good thing here is that my eyes are not glowing bright as it is the case with infrared shots which means, I suppose, that the hot mirror is doing a good job relatively for keeping most of the IR out. It seems brown eyes do reflect IR the most, but I'm not sure about other eyes colors.
From simple inspection for portraits made with infrared filters online, it seems that brightly colored eyes like blue eyes do in fact absorb rather than reflect IR, and thus they become blackish in infrared shots. But this is only my suggestion I'm not sure what is going on out there really
!
Daruma Selfie!
The last selfie, is probably my favorite selfie in this series. I've called it the
Daruma Selfie
, after the well-known Japanese doll
Daruma
. This selfie was shot using the H-Alpha filter which actually acts like an infrared filter but with some surplus in the Red range. However, in processing this selfie, I've swapped the blue and green channels of the image, and that made the image greenish (with some white streaks in my hair). The funny looking billy is caused by the fact of using such wide angle lens (Voigtländer 20mm) at a close distance and slightly below my tummy level, and thus dimensions of objects near the lens are exaggerated (quite known trick in architecture interior photography). Again, no oil to be tested here, but still thinking of ways to use that in the future and maybe more creative selfies rather than boring ones like these.
"Seachtain" is the Irish for "Week." Seven days in the week, and seven images. All in Black and White. These were the rules of the little "game" which was posted on Facebook and I was tagged for the challenge. In addition to that, no shots of people, but only "stuff" from my daily life.
Despite the fact that I can hardly keep on such a challenge in a continuous way, but nevertheless, I've made it! I did take 7 images, one each day and to my own surprise, some of them are actually inspiring for me myself.
Day 1
Day 2
Day 3
Day 4
Day 5
Day 6
Day 7
Probably from all the seven, the last one does inspire me the most with its eerie atmosphere somehow. It inspires me to do something similar somehow in the near future, providing that I get a proper idea to work with.
The challenge is unique and despite its simplicity it did put some strain on my brain. I had to think fast (because my day is full of things to do and with a tired body that needs some rest). Also, since all these images were taken with my mobile (Huawei Mate 9) it made the process somehow easier. My phone shoots in RAW but all these shots were done in JPG right away and then were edited on PC or Laptop. Doing all that with a mobile made the process flow easier somehow. I think doing it with a regular DSLR would have put some major block on my way or achieving it. Some of these shots were even taken at my workplace when I had no DSLR available. The quick usage factor is quite essential here and it is the main thing that pushed me to do what I did. Even though the mobile has its own flash, but I've never used it, which is something to think about for a while; One has to think whether or not the ambient light serves well. This was quite obvious doing my product shots for my nephew with black background. At the end, I've found myself using the ambient light and stopping all my speedlites, despite the somewhat flat look.
Now, there are so much going through my mind but little time and little power to chase after all of that. It's a good thing that winter is here and temperatures are down. This gives me a relief somehow. Sleeping problems though still persist and as days pass by I'm dropping my interests in life further. Not sure where life is going to lead me, but I'm hoping of some stress relief to arrive soon. Wishes of travel must be postponed now despite the urge. I don't know where my destination would be still, but I need to do some passport issues first and then think of something - who knows, maybe Ireland for a 4
th
time? Who knows… I'll keep dreaming about many places I wish to visit for the time being, till that time comes.