Here I am, after 2 weeks of being almost idle. As much as I hate to admit it, but seems my mood swings were at apex. The material I was trying to prepare for this post wasn't much as I couldn't work much with my camera. I was too lazy to touch it and prepare stuff for more nadir shots. Disasters didn't stop at this level yet, as you will be reading further!
On the other hand, I've started with the beginning of last week to do on some eye checking. From one clinic to another, and then to the eye hospital here (and let's not talk about the procedures and the hordes of people in the queue line). There is a big chance that I do suffer from retinitis pigmentosa just like my eldest brother and one of my sisters, but I'm not sure how dangerous my situation is. It was supposed to be a regular and a routine check up in fact, but oh well... I'm trying to cool myself down and enjoy my time as much as possible, with games and the camera when possible. I'm now waiting for November 25
th
to do some eye testing and check with the doctor.
There were many struggles to take nadir shots (or shots pointing downward) specially that I don't have much means to handle the camera and make it hanging in a vertical position.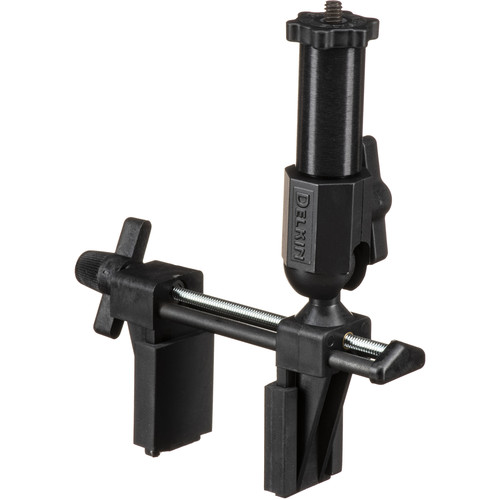 Source: B&H
FAIL!
One of the "toys" that were supposed to help me with this such task is the (crap)
Delkin Fat Gecko Gator Camera Mount
which caused me a disaster the last (and it was the first) time I used it. I left it unused after that failure but with my limited hopes in such tasks like taking nadirs inside rooms I've tried to work around it somehow, and the result was another failure and the device totally disintegrated, piece by piece. I'm simply amazed how come I'm the only one who made a negative review on this item on
B&H
website (or so it seems)!
Above Hall
Rokinon 8mm fisheye, f/16, 1.3sec, ISO500.
One of the trials to take such shots, like in
Above Hall
, I tried to improvise something: a hard paper bag with a hole at its bottom for the camera lens. However, this method didn't work out properly because the body of the camera is not uniform and the result is a tilted camera dangling from the light fixture; a situation that persisted in all situations almost. The camera could hardly be balanced straight. Probably it is time for more of DIY solutions with some metal work - or simply order something! I already had some hard time doing the same procedure in my bathroom. Anyway, I did take a twisted picture but I won't post it here for the time being.
Shots like
Above Hall
aren't something that I applaud but it did teach me some aspects about taking such shots in terms of composition. Probably a congested place is a good thing for such shots, because in
Above Hall
, the hall was empty almost and not many features are presented, making the shot somehow boring, unless you appreciate the minimalistic approach!
Geometrical Amuse
Canon EF 50mm, f/16, 8-1sec, ISO800.
Not all shots, however, were for rooms (and I think I presented some 2 weeks ago). This time though I continued my work with the stairs but since shooting was awkward from upstairs to downstairs, this time I decided to put my monopod to some good use. However, using such a method and dangling the camera (with the portable monitor connected in hot-shoe) calls for a higher ISO to fasten the shutter speed ad get a stabilized image as much as possible.
Geometrical Amuse
is one portion of an image taken this way (with others being shaken and blurred). The crop changed the perspective of the whole image from landscape to portrait. Again it is a combination between abstraction and minimalism I suppose. Still, I didn't get enough amuse from such shots yet. Probably I should consider doing "zenith" shots frequently as much now with the hardships taking such nadir shots. I have to concentrate also on doing nadir shots on objects and other minimal features and not necessarily rooms or landscapes. Landscapes, however, are a good target for a monopod raised up with the camera!
After such many failures doing nadir shots, I've decided to move my point of interest into another field: Macro photography. Or maybe I should say, Extra Macro Photography.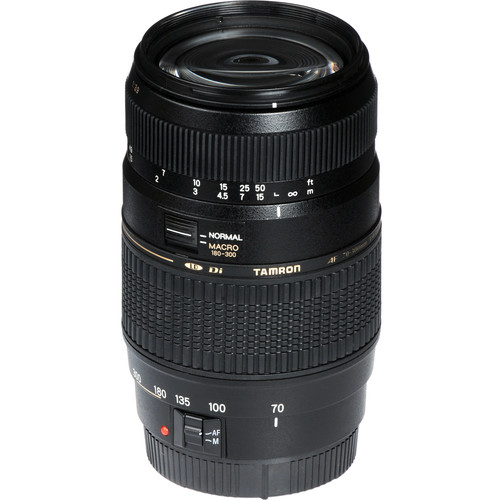 R.I.P.
Tamron 70-300mm
Source: B&H
This change of interest in fact resulted in a disaster in the beginning. My Tamron 70-300mm lens got broken as it was connected in reverse with the Canon EF 50mm. I'm not sure what went wrong but seems I've used some power where it shouldn't be, specially that the body of the lens is plastic. What has been broken is the mechanics for zooming in and out. Thus, with any connected material to the front of the lens, it might make the lens front be dragged forward. However, I can still pull in and out the lens and the focusing mechanism is still working (manual focusing that is, I didn't try the AF!). It did some nice job for some time, but anyway, for the time being, it seems it is time to get a real telephoto lens other than this cheap choice. It was a matter of time. Anyway, with Tamron broken, I do get some choices now and maybe I have a bit more guts to manipulate this lens further somehow (and maybe try to disintegrate it and see what's in!).
Cutter Edge
Canon EF 50mm (R), Canon EF 100mm macro + 36mm extension tubes,
f/32, 60sec, ISO400.
As you can see from
Cutter Edge
, I really didn't have much of good targets. In such trials I just picked the paper cutter to shoot at some of the corrosion on its surface. I made several trials here with Tamron and Canon EF 100mm macro lenses, but this is my first time to use extension tubes in such macro shots, and I'm not quite sure if this is really effective in increasing the zooming power. I need to do a comparison between the two cases and see if extension tubes do really help. Extension tubes are normally used for macro photography but with the purpose of reducing the minimum frontal distance between subject and the lens. The situation here though when reversing two lenses is different though. Just to note, with direct measurements the distance between the 2 grooves in the image above is about 0.5cm (~0.2 in), and when the image was taken the distance
on the image
was around 22.6cm (~8.9 in). By finding the ratio between the two, the result is 45.2. Does that mean that the magnification factor for the whole system is x45? I'm really not sure how this is calculated. Anyway, we can still get awesome results!
Fibers
Canon EF 50mm (R), Canon EF 100mm macro, 36mm extension tubes,
f/32, 60sec, ISO400.
Portion of my blanket!
In the meantime, I'm trying to understand the processes behind reversing the lenses and seems I got the general image:
Seems the first portion of the system is supposed to enlarge the subject with the reverse method. In my system this is done with the Canon EF 50mm lens. There are adapters, however, used to adapt a lens directly to the camera body in reversed position and they are efficient as well.
The second part of the system is to enlarge the image taken from the reversed lens in step No.1, at least this is how I understand it. This was evident when I changed the lenses from the Canon EF 100mm macro, to Tamron 70-300mm and trying the lens at 300mm. The blade of the cutter in the first trial above was magnified further with the increase in the focal length of this portion of the system.
Two problems, however, occur when trying out greater focal length, and/or trying to add teleconverters to duplicate the focal lengths: a) shake, and b) dispersion or chromatic aberrations. The shake of the system is so sensitive that I had to use the intervalometer (plus the timer in the camera itself for 10 seconds) to delay the shoot for around 30 seconds to give time to myself to step away from the (shaky) system. The system is so sensitive even to the steps on the ground nearby. As for the dispersion, this was magnified in Tamron, and this is natural because of the low quality (hence it was cheap lens). Also, teleconverters are made of low quality glass relatively, usually, and they do add to such distortion. So far, the best result is as seen above in Cutter Edge by using the Canon EF 100mm lens directly with reversed Canon EF 50mm lens without any teleconverters.
After these trials, I'm thinking now of building something like a glass table that would help me further with my macro experiments. Some methods and tips are mentioned in
Cyril
's book (cover above) which I've read some weeks ago. I need to go over the book again quickly to get some ideas and inspirations; not only for the macro shooting, but also for the nadir project!
There are stuff that are on hold for the time being. After finishing the books in my arsenal, I've been almost idle at work and too lazy to do "work" itself. I didn't even write any reviews concerning the books (left and above) that I've purchased some weeks ago, or any reviews concerning some of the gear that I've got some time ago from B&H, like the
RoundFlash
. The RoundFlash specifically needs some time to be tried out and have some thoughts as it can be used for portrait and macro - two fields that I'm not quite friendly with (portrait even more). I thought of using the RoundFlash for my (extra) macro projects in the near future but seems to me that the length of the system of lenses attached together would hinder such addition useless.
For this reason, right now, I'm thinking of building a small glass table which be lighted from below. Of course, it would be useful for transparent or translucent objects and not opaque ones but that's not a big deal. I'm sure there are ways to light opaque objects from the side or above without using the RoundFlash.
Further more, I've read an interview with
Jonathan Boakes
, one of my favorite game developers, and in my process trying to seek inspiration whenever and wherever I can, I think Jonathan sparked (again) the fire of photographing old deserted places (which are abundant on Failaka island). On the agenda as well, a trial for the new IR gel filter to make a panorama, but of course it would be a panorama at broad daylight, when possible!
I've been stuffing my schedule with games in the past 2 weeks (and writing reviews about them) and I think the trend is still going on. I'm not sure what is still going on in my mind but there was something that felt severe. Something I just needed to vent through games. Now with the probability of developing Retinitis Pigmentosa, it seems I have to push myself to do more photography before it's too late.